Chiropractic for Children in Edwardsville & Litchfield
It's no secret that parents want the best for their children. Imagine if you were able to give them the absolute best start in life. With pediatric chiropractic care, that possibility is a reality.
At Family Health and Wellness Chiropractic, Dr. Kari holds a special certification with the International Chiropractic Pediatric Association (ICPA) and frequently uses her knowledge to improve the overall wellness of children, from newborns to adolescents.
Why Choose Chiropractic for Your Child?
The earlier in life that a parent chooses chiropractic care for their child, the easier it is to correct spinal misalignments that may cause problems in the future.The adjustment process for infants and children is not only gentle, but safe and effective. Dr. Kari often utilizes only soft vibration to combat alignment issues in her young patients. With this technique, there is no popping or cracking sound, which parents often find relieving.Chiropractic adjustments often help to ease the following common childhood ailments, including but not limited to:
• Allergies
• Asthma
• Bed-wetting
• Colds
• Colic
• Ear infections
• Headaches

A Family Affair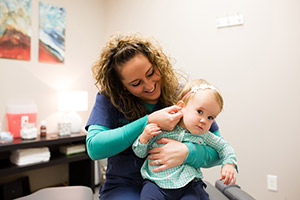 One of the most comforting parts about visiting Family Health and Wellness Chiropractic is Dr. Kari's unique ability to give each patient the attention, time, and care they deserve. Not only does she enjoy answering questions from patients, but encourages them to learn as much about the care they're receiving as possible. She'll take the time to answer your each and every question regarding treatment for your child and hopes to teach you a thing or two as well.
When working with children, Dr. Kari understands the importance of connecting with both the child and parents. Whether you're pregnant, a new mother, or parents searching for a natural and healthy alternative for your children, at Family Health and Wellness Chiropractic, adjustments are a family affair.
Child Success Stories
Wondering if adjustments could bring improved health to your child? Read how chiropractic care has benefited one of Dr. Kari's young patients below.
A couple brought in their infant son who was crying nonstop. Though the father was hesitant at first, he understood the power of chiropractic when his child was able to sleep through the night that very evening after being adjusted. Now, their baby comes in every few weeks for an adjustment, keeping the child happy and healthy! Dr. Kari
If you'd like additional research on the enormous benefits of chiropractic care for your child, don't hesitate to contact our office. Schedule your family's appointment today!
---
Pediatric Chiropractic in Edwardsville & Litchfield
Edwardsville – (618) 391-0202
Litchfield – (217) 324-5205